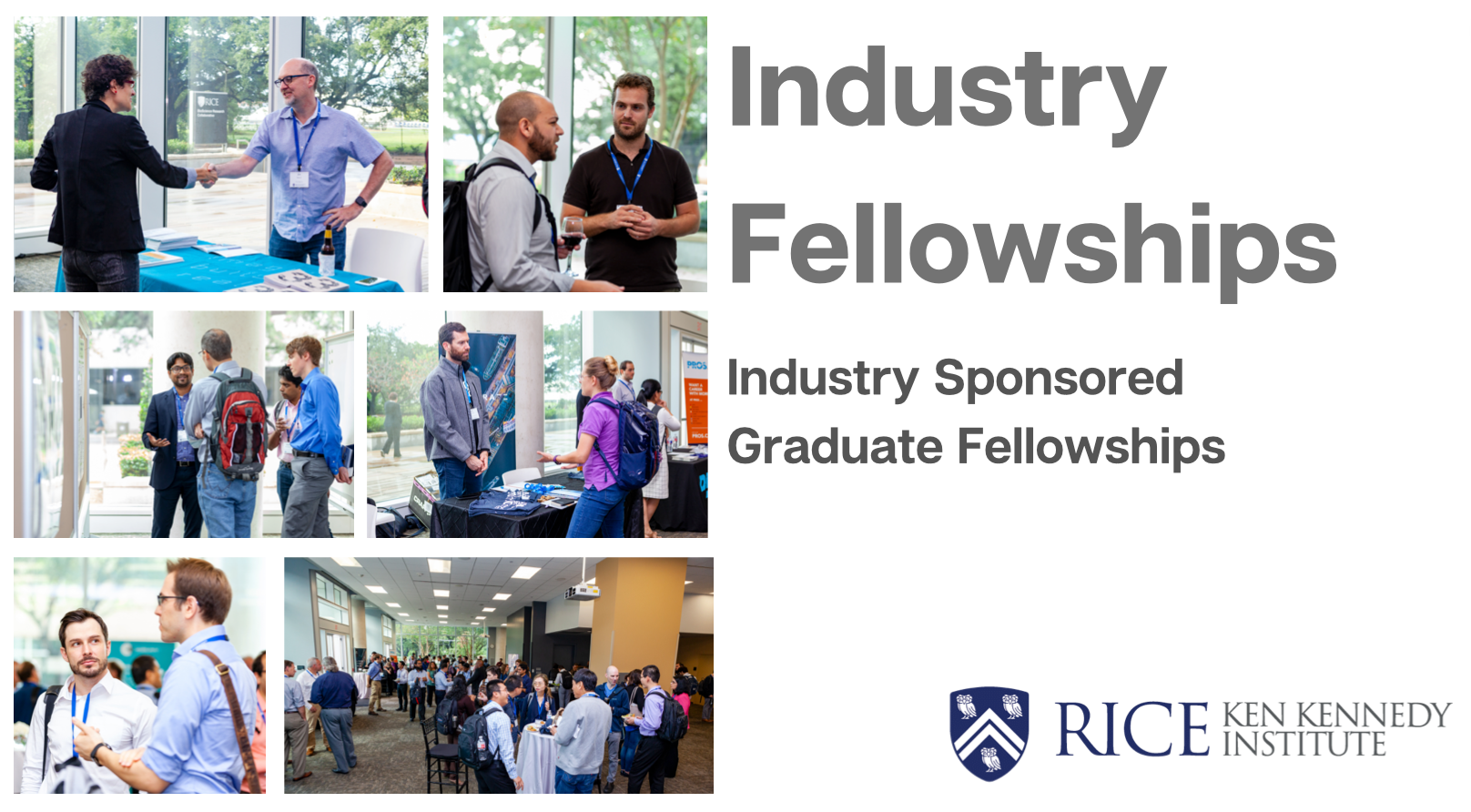 The following industry sponsored, one-year graduate fellowships are available to graduate students pursuing research related to high performance computing, computational science & engineering, and information technology. Consideration will be given to students with a focus on high performance computing, software technology, modeling and simulation, data analytics & machine learning, industrial internet of things and user experience & data visualization. While we are using a common application, only one industry sponsored fellowship will be awarded per student.
Past Fellowship Sponsors
For more information on each fellowship and a list of past fellowship recipients, please visit the links for each sponsor.
The deadline for 2019-2020 applicant submissions is now closed. Please check back here for updates.
Requirements and Important Information:
Candidate must be registered at Rice for the entire calendar year for which he/she is nominated
Candidate must not be in his/her last year of study and must be willing to visit with the various companies funding the Ken Kennedy Institute's industry sponsored graduate fellowships
Candidate should be willing to consider a paid industry internship
Fellowship funds disbursed as follows:

Student: Will receive funding on top of the student's current stipend
Advisor: Will receive funding to be allocated to a designated fund managed by student's advisor
Travel award: A portion of the award will provide funding to help support industry/research student travel

All recipients will be required to prepare and present a poster during the annual Rice Oil and Gas Conference (For details on the OGHPC Conference, visit the website at www.og-hpc.org)
*Special Note for Schlumberger Graduate Fellowship applicants:
Candidates whose research centers around areas of special interest to Schlumberger/WesternGeco (such as Machine Learning) will be given priority.
Fellowship candidates should be willing to complete a paid internship with Schlumberger/WesternGeco (Do NOT apply for this internship if you are not willing to meet this internship requirement).
Please note, it is the applicant's responsibility to ensure the letter of recommendation is sent to the Ken Kennedy Institute. Letters should be e-mailed to kenkennedy@rice.edu (preferred) or alternatively can be dropped off at Duncan Hall room 1084 or sent via campus mail to MS 39.
Although not guaranteed, fellowship sponsor companies may consider fellowship recipients for future internships. We strongly urge students to engage with the fellowship sponsoring companies by visiting and participating in various career events hosted by the companies.
For additional information, please contact the Ken Kennedy Institute at kenkennedy@rice.edu.