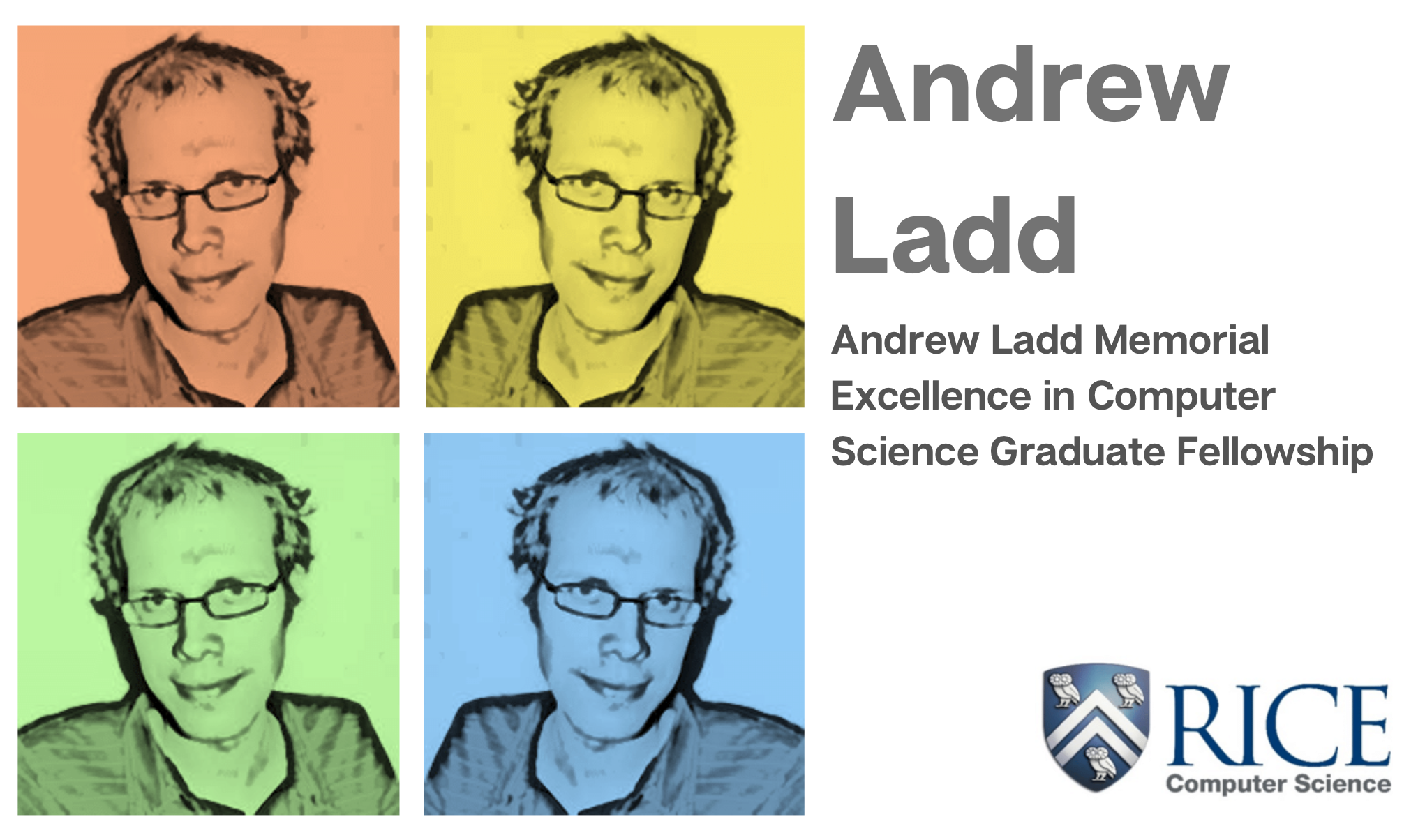 The Computer Science Department partnered with the Ken Kennedy Institute to annually award the Andrew Ladd Memorial Excellence in Computer Science Graduate Fellowship in the amount of $5,000 to a well-qualified graduate student in Computer Science.
This fellowship has been made possible by the Andrew Ladd Memorial Excellence Fund in Computer Science, established in honor of the late Dr. Andrew Ladd by his parents Mr. and Mrs. Stuart Ladd, his sister Ms. Kelly Ladd, and his widow Dr. Fumiko Chino. Andrew Ladd excelled in his studies at Rice University and received his M.S. and Ph.D. degree in Computer Science from Rice University, Houston, Texas in 2003 and 2006, respectively.
To read more about Andrew Ladd and his work, click here.
Requirements:
Graduate student must be a student in the Computer Science Department at Rice University.
The candidate selected to receive the fellowship is not eligible for other Rice fellowships.
Preference will be given to candidates who have already started their thesis research.
Past Recipients:
2023/2024
Tianyang Pan, Computer Science
2022/2023
Nicolae Sapoval, Computer Science
2021/2022
Zhiwei Zhang, Computer Science
2020/2021
Jiarong Xing, Computer Science
2019/2020
Afsaneh Rahbar, Computer Science
2018/2019
Eleni Litsa, Computer Science
2017/2018
Keren Zhou, Computer Science
​2016/2017
Wen Dingqiao, Computer Science
2015/2016
Suguman Bansal, Computer Science
2014/2015
Ryan Luna, Computer Science
​2013/2014
Kuldeep Singh, Computer Science