Charles Sidney Burrus — "Sid" to almost everyone — whose boyhood fascination with electricity set him on a path to become a pioneer in digital signal processing during a long and influential career at Rice University, died April 3.
Burrus, the Maxfield and Oshman Professor Emeritus of Electrical and Computer Engineering (ECE) and former dean of engineering, was 86 years old.
"Rice engineering has lost one of the great ones," said Bart Sinclair '73 '74 '79, who retired in 2019 as senior associate dean of engineering after 50 years at Rice.
Among the many honors he amassed during 56 years on Rice's faculty, Burrus won the annual George R. Brown Teaching Award six times. "Sidney was not just a popular lecturer," Sinclair said. "He was a demanding one."
Burrus was born Oct. 9, 1934, in Abilene, Texas, and grew up in McKinney. He enrolled at Rice in 1953 and went on to earn three degrees: a B.A., and a B.S. and M.S. in electrical engineering (EE), in 1957, 1958 and 1960, respectively.
From 1960 to 1962 he served in the Navy and taught EE at the Naval Nuclear Power School in New London, Connecticut. Burrus went on to study EE at Stanford University, earned his Ph.D. in 1965 and joined the Rice faculty that year.
"One of the main reasons I came to Rice was Sid Burrus," said Don Johnson, the J.S. Abercrombie Professor Emeritus of ECE. "He, along with the other reason I was attracted, Tom Parks, had written a seminal paper in the field of digital signal processing (DSP)."
Parks, who left Rice in 1986 for Cornell University, where he taught for 22 years, died in December.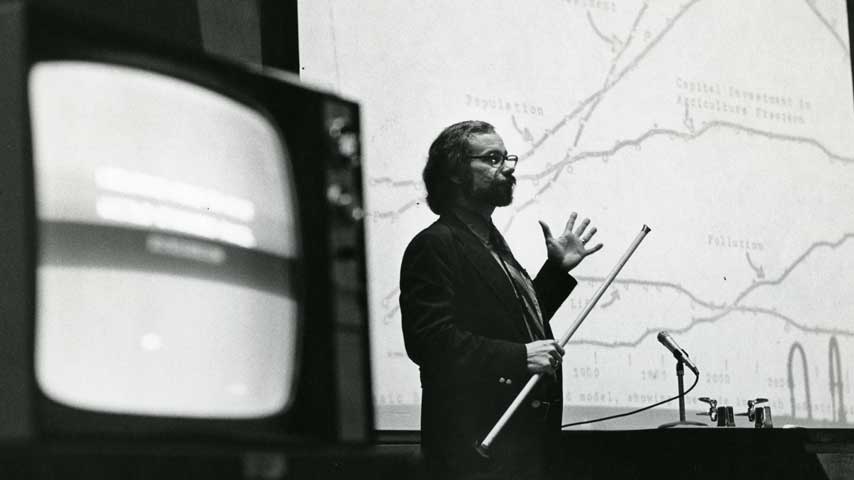 "When I arrived at Rice for an interview," Johnson said, "Sid was master of Lovett College. Not only was he welcoming but also the department was open and friendly."
Burrus created the first DSP course taught at Rice in 1968. In two books written with Parks during the 1980s, he helped develop a unified theory of FFTs (fast Fourier transforms) and efficient ways to program them. In an interview with the History Center of the Institute of Electrical and Electronics Engineers in 1998, Burrus said: "Filters and algorithms -- Parks and I were both interested in digital filters and what do they do and how do you design them and how do you implement them. And we were interested in algorithms, variations on fast Fourier transforms."
Parks, who left Rice in 1986 for Cornell University, where he taught for 22 years, died in December.
In 2007, Burrus was elected a fellow of the American Association for the Advancement of Science, and two years later received the Jack S. Kilby Signal Processing Medal from the Institute of Electrical and Electronics Engineers for his contributions to "Fast Fourier transform algorithms, digital filter design and signal processing education."
"Upon my arrival at Rice in 1993," said Richard Baraniuk, the Victor E. Cameron Professor of ECE, "I was immediately taught that the motto for success at Rice was to 'be like Sidney.'"
Baraniuk's doctoral adviser at the University of Illinois had been Doug Jones, who several years earlier had earned three degrees in ECE from Rice. "When I finished my Ph.D. in 1992 and accepted the job offer from Rice, Doug told me that he was a little bit embarrassed because, once I got to Rice, I would find out that his spiritual guidance over those years was, in his words, merely a retelling of all the wonderful advice that Sidney had given him over his near-decade at Rice."
Thanks to Burrus, Baraniuk said, "My career and life trajectory were changed forever for the better. Sidney impacted literally hundreds of us with his worldview and insight."
Sidney Burrus addresses guests at the establishment of the Sidney Burrus Chair in the George R. Brown School of Engineering Nov. 18, 2020.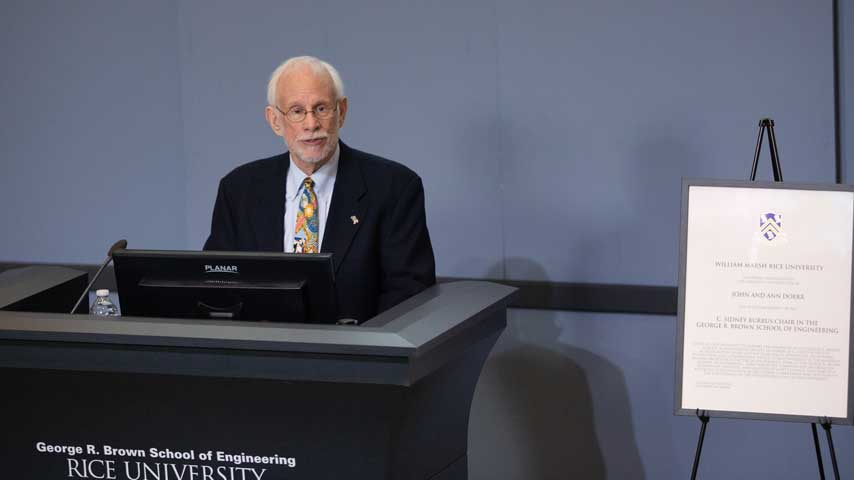 Burrus served as chair of ECE from 1984 to 1992, director of the Computer and Information Technology Institute at Rice from 1992 to 1998, dean of engineering from 1998 to 2005 and interim dean in 2010-11. Last November, the Sidney Burrus Chair was established in the School of Engineering.
Kathleen Matthews, the Stewart Memorial Professor of Biosciences, was named dean of the Wiess School of Natural Sciences in 1998 when Burrus was appointed to the same position in Rice's George R. Brown School of Engineering.
"We worked well together," Matthews said. "We had known each other for many years and had developed a significant level of trust. The thing about Sidney was that he was a reader and a thinker, and he loved people. He was open and curious and broadly interested in everything. He was a loving, generous person."
In a Rice Thresher article published in 2008, Burrus said he had been fascinated by electricity since he was a boy: "It was sort of magic, because you couldn't see it, and yet it did all kinds of important things."
The student newspaper noted that "Burrus claims he has been at Rice 'forever.' He teaches one course per semester and conducts research." He said that he intended to continue teaching as long he could. "Until my brain totally quits."
His wife of 62 years, Mary Lee Burrus, died last Oct. 13. He is survived by a daughter, Virginia Burrus of Syracuse, New York.; a son, Charles Hendrix Burrus of Houston; and four grandchildren.
Memorial services are pending. Visit here for more information.
Author: PATRICK KURP