The Rice University lab of physicist Junichiro Kono will share in a $1 million grant from the Chan Zuckerberg Initiative (CZI) to develop advanced systems that improve imaging of proteins, cells and tissues.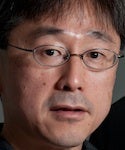 The Frontiers of Imaging grant to Washington University in St. Louis is one of 13 new $1 million awards to scientists to develop technology that will reveal the inner workings of cells at near-atomic resolution to better understand what causes disease and how to develop treatments.
Kono, the Karl F. Hasselmann Professor in Engineering and a professor of electrical and computer engineering, of physics and astronomy and of materials science and nanoengineering, specializes in advanced terahertz and other spectroscopy techniques to study phenomena in materials that can't be seen by other means.
He and his colleagues will develop the theory and hardware to enable a new class of electrically driven quantum light sources that produce beams of photonic dimers for deep-tissue imaging. The sources will be based on a periodic array of quantum defects in macroscopic films of aligned single-wall carbon nanotubes of the sort first developed in Kono's lab in 2016.
Jung-Tsung (JT) Shen, an associate professor of electrical and systems engineering and physics at Washington University, is the team's theorist and principal investigator. Kono and Rice alumnus Lihong Wang, the Bren Professor of Medical Engineering and Electrical Engineering at the California Institute of Technology, are co-investigators and will develop the technology.
"I am excited about this opportunity because this will connect our lab's fundamental research in materials physics and quantum optics to bioimaging and neuroengineering — totally new fields for me," Kono said. "Our macroscopically aligned films of carbon nanotubes have been useful for scientific studies, but this will be the first real-world application, if we are successful."
"We want to enable researchers everywhere to visualize, measure and analyze the biological processes underlying health and disease," said Cori Bargmann, CZI's head of science, in the grant announcement. "That means taking multiple approaches. We're pushing the frontiers with our deep-tissue imaging grants, we're supporting imaging scientists — the key technology experts who disseminate new advances — and we're building community with BioImaging North America. We're thrilled to welcome our new imaging grantees."
CZI was founded by Priscilla Chan and Facebook founder Mark Zuckerberg in 2015 to leverage technology with the ability to help solve some of the world's toughest challenges, among them eradicating disease, improving education and reforming the criminal justice system.
Author: MIKE WILLIAMS