Join us on National DNA Day, April 25th, for a Ken Kennedy Institute Distinguished Lecture with Dr. Adam Phillippy, Senior Investigator at National Human Genome Research Institute, National Institutes of Health.
National DNA Day, lead by the National Human Genome Research Institute (NHGRI), is a global movement to empower communities, educators, and students to discover the promise of our shared humanity and connection to the natural world through innovations and collaborations. This year's DNA Day commemorates the 20th anniversary of the Human Genome Project's completion in 2003 and the 70th anniversary of the discovery of the DNA double helix in 1953 by James Watson and Francis Crick.
On April 25th each year since 2003, organizations around the US host events and activities to engage the community in local and national collaborations. We're excited to welcome Dr. Phillippy to Rice on this special day to celebrate the latest advances in genomic research!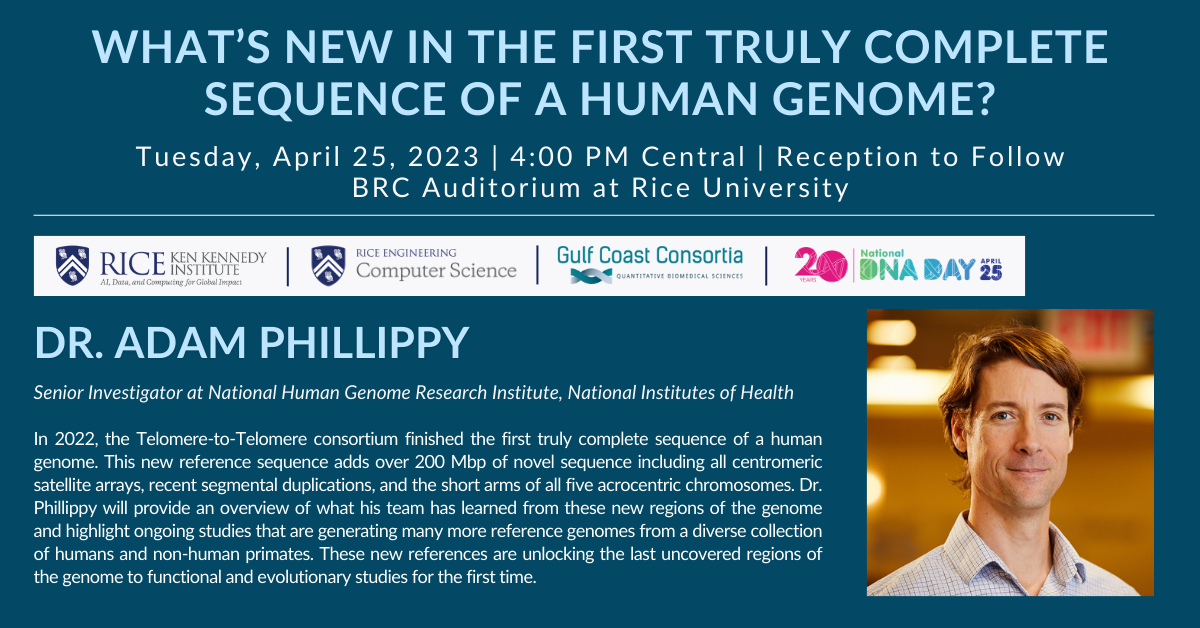 Lecture + Reception: Tuesday, April 25 at 4:00 PM Central at Rice University — BioScience Research Collaborative (BRC) Auditorium
Talk: What's New in the First Truly Complete Sequence of a Human Genome?
Registration: Free to attend! Learn more here.
Abstract: In 2022, the Telomere-to-Telomere consortium finished the first truly complete sequence of a human genome. This new reference sequence adds over 200 Mbp of novel sequence including all centromeric satellite arrays, recent segmental duplications, and the short arms of all five acrocentric chromosomes. I will provide an overview of what we have learned from these new regions of the genome and highlight ongoing studies that are generating many more reference genomes from a diverse collection of humans and non-human primates. These new references are unlocking the last uncovered regions of the genome to functional and evolutionary studies for the first time.
Bio: Dr. Adam Phillippy is a Senior Investigator and head of the Genome Informatics Section at the U.S. National Human Genome Research Institute. His lab develops computational methods for the analysis of DNA sequences, including genome sequencing, comparative genomics, forensics, and metagenomics. He has developed foundational methods for mapping and comparing whole genomes and pioneered the use of single-molecule sequencing for the reconstruction of complete genomes. He is a co-founder of the Telomere-to-Telomere Consortium and led the team that finished the last remaining regions of the human genome. For this work, he was named by TIME magazine as one of 2022's most influential people.
Sponsored by: The Ken Kennedy Institute, Rice University Computer Science Department, and Gulf Coast Consortia