On July 14th, the New York Stock Exchange welcomed the Alliance for Artificial Intelligence in Healthcare (AAIH)'s board of directors, including Ken Kennedy Institute's executive director Dr. Angela Wilkins, to celebrate AI Appreciation Day. In honor of the occasion, Mustaqhusain Kazi, Global Head of Informatics Strategy and Digital Innovation at Roche/Genentech and Chair of the AAIH, rang the Opening Bell to begin the day of trading.
In addition to Kazi and her fellow board of directors, Dr. Wilkins was joined by Stacie Calad-Thomson (Vice-Chairperson of AAIH, Chief Strategy Officer and Head of Drug Discovery, BioSymetrics), James Zanewicz (Treasurer of AAIH, Chief Business Officer, Tulane University School of Medicine), Maria Luisa Pineda, Ph.D., (Secretary of AAIH, Chief Executive Officer, Envisagenics) and Elaine Hamm, Ph.D., (Executive Director, Alliance for AI in Healthcare) to represent AAIH on Wall Street.
"Artificial intelligence has demonstrated its potential to substantially impact the lives of patients today and will continue to evolve to transform drug R&D, drive equitable healthcare, and deliver better outcomes for patients," said Kazi. "The Alliance for Artificial Intelligence in Healthcare is committed to working across the global spectrum – from private companies to academia to regulators – to ensure this game-changing technology is responsibly adopted and implemented in life science and healthcare ecosystems worldwide. We thank NYSE for recognizing our efforts and continued progress in this space."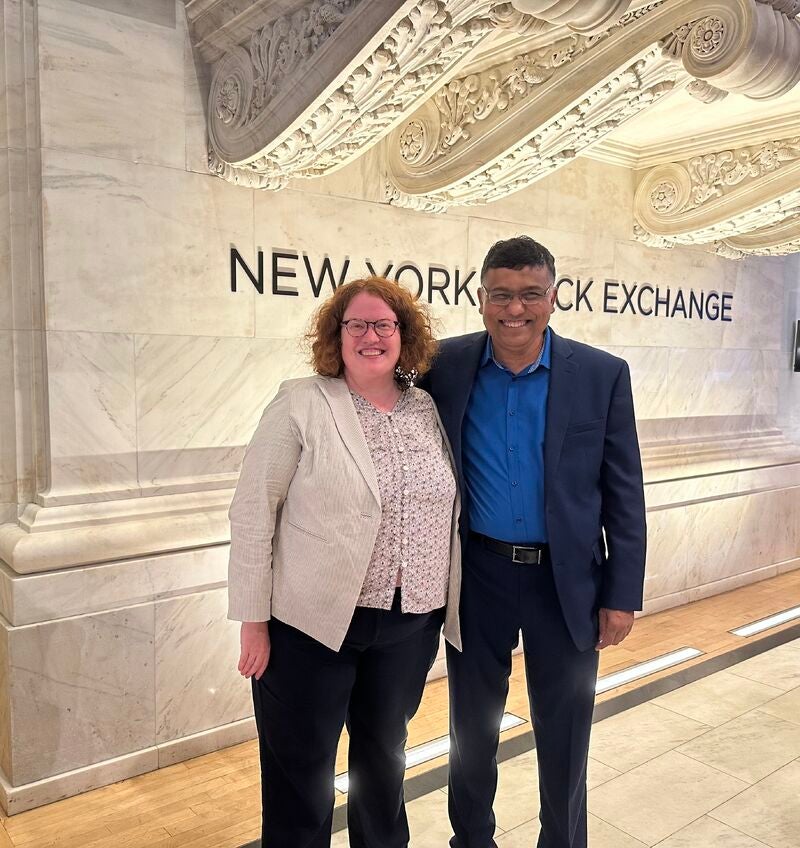 Pictured: Angela Wilkins and Mustaqhusain Kazi at NYSE
The Ken Kennedy Institute is a proud member of AAIH, a global advocacy organization dedicated to the discovery, development, and delivery of better solutions to improve patient lives and create more efficient, sustainable, and accessible healthcare systems through responsible AI applications. The AAIH also collaborates with the Institute by acting as an Ecosystem Partner to promote advancements, challenges, and possibilities of artificial intelligence in healthcare and public health through our annual AI in Health Conference. By expanding our connections with the AAIH network, the Ken Kennedy Institute aims to attract leading researchers, clinicians, engineers, and entrepreneurs to Rice University to engage in discussions of the future of healthcare innovation and artificial intelligence.
---
Details pulled from this AAIH article covering the event.