Angela Wilkins has been named executive director of Rice University's Ken Kennedy Institute.
She takes over for longtime director Jan Odegard, who left the university's hub for computing and data science research to become senior director for industry and academic partnerships at the Ion, the Rice-led Houston innovation facility.
"I am thrilled that Angela has decided to join the Ken Kennedy Institute as its executive director," said Director Lydia Kavraki, Rice's Noah Harding Professor of Computer Science and a professor of bioengineering, electrical and computer engineering and mechanical engineering.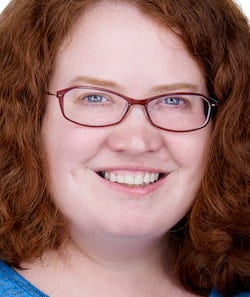 Kavraki expects Wilkins will be instrumental in expanding the institute's relationships with external partners, including the Texas Medical Center and local industry.
"She is an academic at heart with considerable experience working with faculty and students and an entrepreneur who has helped built a successful technology company," Kavraki said. "Over her career Angela has worked on data and computing problems in a number of disciplines including engineering, life sciences, health care, agriculture, policy, technology and energy."
Wilkins describes herself as an academic turned entrepreneur who is returning to academia.
After earning a Ph.D. in theoretical physics from Lehigh University, she shifted her focus to computational biology and spent nine years at Baylor College of Medicine as a researcher and instructor. She later served as director of clinical research at the nonprofit Center for Science & Law, and in 2017 founded Mercury Data Science to help early stage companies solve data science problems.
She was previously chief scientist of Mercury Fund, a Houston venture capital group, advising on artificial intelligence-related investments, an adviser to the Texas Medical Center Startup Accelerator (TMCx) and a mentor for several companies. Wilkins holds four patents, has been involved in several federally funded projects and has been published extensively.
"I am very excited to be working with Lydia to continue the success of the Ken Kennedy Institute, especially at such an interesting time," said Wilkins, who took over the post during the coronavirus lockdown.
"The first week has been hectic," she admitted. "But Jan and team have been amazing helping me catch up — and I'm looking forward to eventually seeing my office!"
Author: MIKE WILLIAMS