Zachery Cordero suggests we think of the new Additive Manufacturing, Performance and Tribology (AMPT) Center at Rice University as a "three-circle Venn diagram," drawing from multiple disciplines, schools and departments in engineering and science.
"As we organized it, the center stands on three overlapping pillars. It's more like a web than a straight line, and touches many industrial applications," said Cordero, assistant professor of materials science and nanoengineering (MSNE), and one of the center's three founders.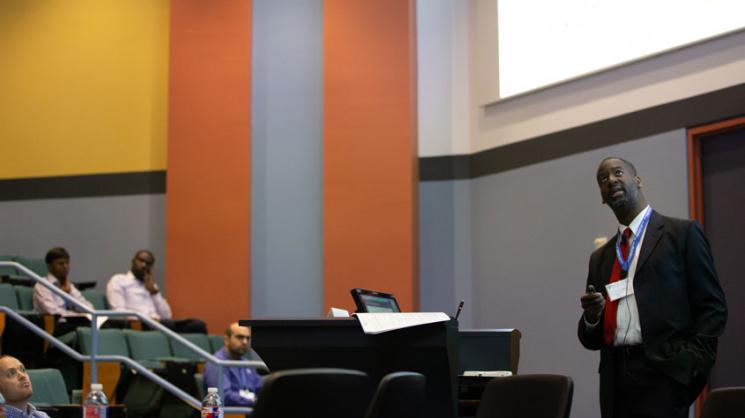 On Aug. 15-16, more than 75 representatives of industry and academia attended a symposium introducing the new center. In his opening remarks, Reginald DesRoches, the William and Stephanie Sick Dean of the George R. Brown School of Engineering, described the center's focus as "one of a handful of fields that will change our lives."
Cordero, who launched his Additive Lab at Rice in 2016, focuses on the first pillar of the center's name. Additive manufacturing, known popularly as 3D printing, uses computer-aided-design software or 3D object scanners to assemble material, layer upon layer, in precise geometric shapes. It adds material to create useful objects rather than removing material, as in conventional manufacturing.
Matthew Brake, assistant professor of mechanical engineering (MECH) and founding director of the Tribomechadynamics Lab at Rice, conducts research on performance and tribology. His work focuses on measuring and analyzing friction in dynamic structures made by joining parts, with applications in the aerospace, defense, and automotive industries.
"These are well-established areas of study. What we're doing is being inclusive and looking at interfaces at all scales, from nano to macro. How can we design and predict the response of assembled structures that contain strong nonlinearities?" Brake said.
The center's third founder is C. Fred Higgs III, the John and Ann Doerr Professor of MECH, vice provost for academic affairs and director of the Rice Center for Engineering Leadership, who specializes in tribology, the study of interacting surfaces, including friction, lubrication and wear. In his Particle Flow & Tribology Lab, he devotes an increasing amount of time to additive manufacturing. Powder-bed 3D printers, a growing presence in many industries, employ particles processed between interacting surfaces.
"The performance pillar in AMPT," Higgs said, "is an overarching one. It involves advanced computational techniques, such as artificial intelligence, which are being used to more quickly predict and improve the behavior of both additive manufacturing and tribological systems."
He added: "The additive manufacturing industry is currently valued at $9.3 billion. With a growth rate of 14 percent annually, it's expected to reach $23.3 billion by 2026. Engineering applications that involve sliding surfaces and rotating parts have tribology-based performance challenges that additive manufacturing is positioned to meet."
Among the symposium presenters were Rice faculty members from MSNE, MECH, bioengineering, chemical and biomolecular engineering, and chemistry, and a researcher from the Oak Ridge National Laboratory.
Author: PATRICK KURP